SIMULATION FOR MODERN CLINICS
Our clinical simulators convince through detailed and realistic handling. The qube20e was developed together with Stryker on the basis of the LIFEPAK20e and offers the perfect basis for a realistic simulation in the clinical area. Emergency teams already using LIFEPAK12 and LIFEPAK15 devices will immediately recognize the standardized and clear user interface. Skillqube also uses original graphics and sounds from Stryker. Like all qubeSERIE simulators, the qube20e can be intuitively controlled with the existing qubeCONTROLLER. In addition, this simulator also offers seamless integration into the qubeCLOUD.
In cooperation with

Functions
Fully functional defibrillator/monitor based on the Stryker / Physio Control Lifepak 20e
Capnography
CPR metronome
Visually displayed in the intuitive door system software, the LIFEPAK 20e serves as an automated external defibrillator (AED) for your BLS teams to begin early defibrillation before the resuscitation team arrives.
AED mode with visual AED prompting
6-/12- channel ECG
Manual mode allows access to energy selection
360J shock energy
synchronized cardioversion
faithful implementation of alarms
SpO2 measurement with waveform display
Pacemaker
stimulation frequency: 40 to 170 ppm / output current: 0 to 200 mA
Additional Features
Controller & Assessment
Control all vital signs via instructor software
Browser-based scenario editor with image and video library
Auscultation, blood sugar and temperature measurement
Availability of checklists and SOP for in field use
qubeCPR Sensor
qubeCPR Sensor
The sensors provide the instructor with information about the pressure depth and speed in the integrated display on the scenario controller. The arrows above and below the respective values indicate whether, for example, pressure is being applied too quickly or too deeply.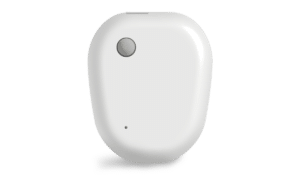 ---
Measured values
Ratio of successful and unsuccessful compressions in %.
CPR Fraction in %
Average performance of the team
The respective individual evaluations can be viewed in the logbook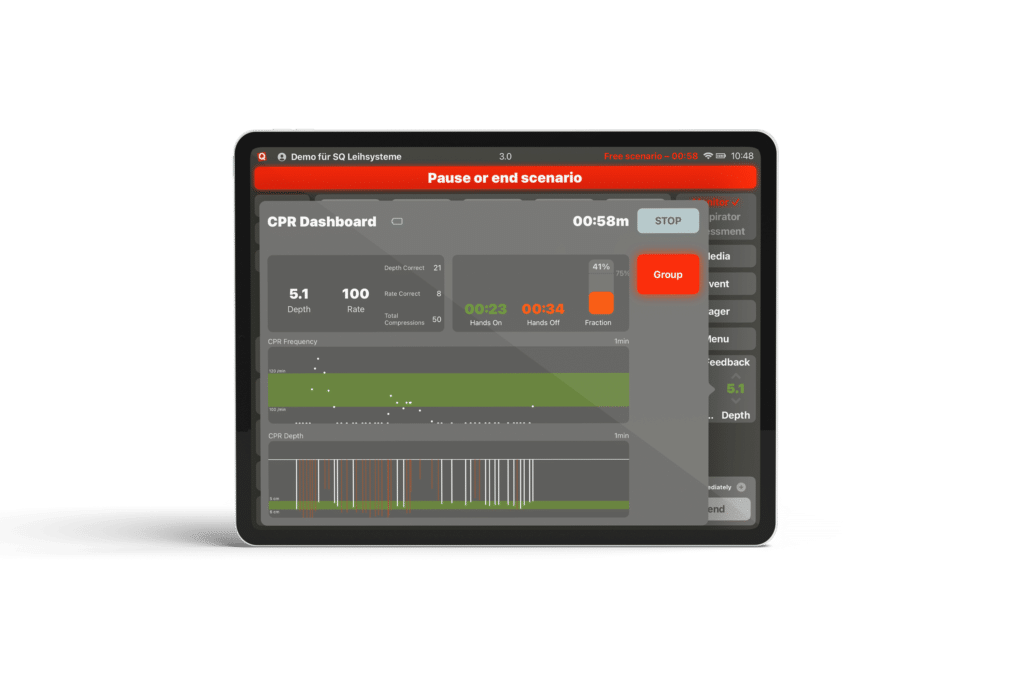 qubeCLOUD
With the new qubeCLOUD we have created a platform that allows you to create, edit and release simulation scenarios individually and fully. As a trainer, you have even more time to concentrate on your students.
Create & edit scenarios
Release scenarios
Mode for "examiners
Link to the qubeCONTROLLER 2.0
Manage your organization
Manage users
Hardware Configuration
Hardware Set qube "L"
Hardcase for iPad 12,9″
Bag for Hardcase
Adult Cable Set (training only)
Pediatric cable set (training only)
Wifi router
Apple iPad Pro 12,9″ for Monitor
Apple iPad 10,2″ and protection cover for Controller
Apple iPod 4″ and protection cover for Assessment
---
Hardware Set qube "M"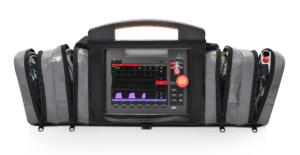 Hardcase for iPad 10,2″
Bag for Hardcase
Adult Cable Set (training only)
Pediatric cable set (training only)
Wifi router
Apple iPad Pro 10,2″ for Monitor
Apple iPad 10,2″ and protection cover for Controller
Apple iPod 4″ and protection cover for Assessment