Based on the ZOLL X SERIES
What pilots have been practicing for decades is getting more and more an important part in medical education. Simulations help to train the own skills and treatment methods in the team precisely and anchor through constant repetition. Based on years of experience and hundreds of feedback, with the qubeX Skillqube has developed a highly functional simulation system that helps to prepare healthcare professionals for emergencies.
In cooperation with

Functions
Fully functional ecg-surface
dynamic 12-lead-ecg
Defibrillation (AED and manual mode)
Pacer
Resuscitation mode (metronome, fraction etc.)
Additional Features
Controller & Assessment
Control all vital signs via instructor software
Browser-based scenario editor with image and video library
Auscultation, blood sugar and temperature measurement
Availability of checklists and SOP for in field use
qubeCLOUD
With the new qubeCLOUD we have created a platform that allows you to create, edit and release simulation scenarios individually and fully. As a trainer, you have even more time to concentrate on your students.
Create & edit scenarios
Release scenarios
Mode for "examiners
Link to the qubeCONTROLLER 2.0
Manage your organization
Manage users
Hardware Configuration
Hardware Set qube "L"
Hardcase for iPad 12,9″
Bag for Hardcase
Adult Cable Set (training only)
Pediatric cable set (training only)
Wifi router
Apple iPad Pro 12,9″ for Monitor
Apple iPad 10,2″ and protection cover for Controller
Apple iPod 4″ and protection cover for Assessment
---
Hardware Set qube "M"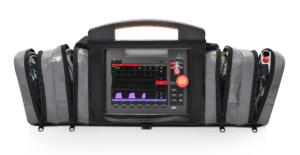 Hardcase for iPad 10,2″
Bag for Hardcase
Adult Cable Set (training only)
Pediatric cable set (training only)
Wifi router
Apple iPad Pro 10,2″ for Monitor
Apple iPad 10,2″ and protection cover for Controller
Apple iPod 4″ and protection cover for Assessment